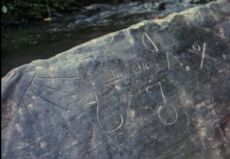 Case File: Mystery Rock
Case: Unusual Phenomenon
Location: Washington
Date: May 1988

Details: In May 1988, thirteen-year-old Jamie Parks and his friend, Trevor Johnson, went into the woods in Washington state near the Canadian border and found a bizarre rock with strange, cryptic, alien-like drawings on it.

Trevor told his parents about this, who were struggling to pay the bills and risking everything on a small carpet store that was opening in a new mall. Mr. Johnson hiked to the spot with Trevor and was also interested in the strange stone that was submerged in the river. Soon afterwards the Johnsons' carpet shop flourished, and they eventually also acquired a movie theatre and other shops within the mall, attaining prosperity that had eluded them for years. They believe their turnaround was due to finding the rock. However, an archaeologist disagrees. After he studied the rock, he determined the markings were not made by American Indians as commonly believed and that the rock dates to the 20th Century at its earliest. Whatever the origin of the rock, the Johnsons have been grateful to their son and Jamie Parks for finding it while exploring.
Extra Notes: The case was featured as a part of the November 23, 1988 episode.
The movie theater seen in the clip advertised the 1988 film Willow. This was the first film that the Johnsons sold to audiences when they acquired the theater.
Results: Unsolved
Links: None
---
Ad blocker interference detected!
Wikia is a free-to-use site that makes money from advertising. We have a modified experience for viewers using ad blockers

Wikia is not accessible if you've made further modifications. Remove the custom ad blocker rule(s) and the page will load as expected.