Moses Lall and Lila Buerattan
Talk

0
1,610pages on
this wiki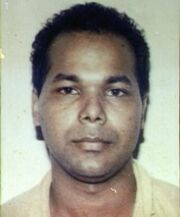 Real Name: Bhagwaniala "Moses" Lall and Lila Buerattan
Nicknames: No Known Nicknames
Location: West Palm Beach, Florida
Date: June 4, 1994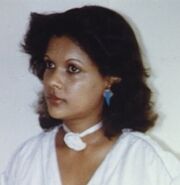 Occupation: Bird Farmers
Date of Birth: (Lall) December 27, 1962, (Buerattan) March 23, 1959
Height: (Lall) 5' 7", (Buerattan) 5' 5"
Weight: (Lall) 165 lbs., (Buerattan) 115 lbs.
Marital Status: (Both) Single
Characteristics: (Both) Brown eyes and black hair

Details:
Moses Lall and Lila Buerattan were Guyanese natives raising exotic birds on a farm in Florida. On June 4, 1994, Daryl Crewe arrived at the farm with their usual feed delivery and found the farm deserted. No one came to meet him, and the hundreds of exotic birds present, valued at $700,000, were starving and screaming for food. He dropped off the food and checked back the next day, the starving birds screaming even louder. Two days later, Lall and Buerattan's hired hand,
Hari Gobin
, was discovered by a state trooper changing the tire on Lall's vehicle, but Gobin passed himself as Lall and without any indication of foul play, the state trooper sent him on his way. Ten days after they had vanished, police and animal control rushed to Lall and Buerattan's farm to rescue and save the starving birds. A bureaucratic slip-up had delayed the investigation, and thirty to forty valuable and once beautiful birds died in the absence of their owners. In the meantime, the authororities wondered what had happed to Lall and Buerattan. Rumor had it that lall had decided to expand the business to include exotic reptiles and had borrowed money from sinister underworld figures to finance it. Perhaps they had run out of money a
nd were abducted. One of their hired hands, Roland Eyoum, had been in New York City for since before the disappearance, but Hari Gobin was no where to be found. Police don't know if he is running from an abduction or if he had a hand in it.
Suspects: At case time, the police were not considering Gobin a suspect, but they would like to question him on what he knew about the disappearances of his employers.
Extra Notes: This case originally ran on the April 5, 1996 episode.
Results: Unsolved
Links:
---