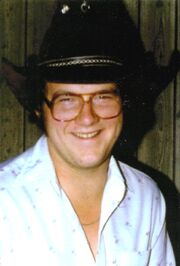 Real Name: Morris Davis
Nicknames: No Known Nicknames
Location: Great Falls, Montana
Date: April 5, 1985

Details: On the evening of April 5, 1985, 23 year old pizza delivery man Morris Davis was found gunned down in a model home in Great Falls, Montana. Police believe that earlier that evening, the killer found the vacant house and removed the "For Sale" sign from the front yard. The perpetrator then forced his way into the home through the back door. The pizza order was placed to Howard's Pizza by pay phone at 8:34pm. Fifteen minutes later, the pizza was ready, and Morris was the next available drive. He left at around 9:15pm, and arrived at the home a few minutes later. Authorities believe he entered the house and was then immediately shot and killed. The only item the killer took was Morris's delivery wallet. Authorities believe that the motive was robbery, but they had no suspects or murder weapon.
Three years later, on May 11, 1988, a man was arrested driving a stolen car 180 miles from Great Falls. When authorities searched the man, they found a receipt from a Great Falls pawn shop that was for a .22 caliber pistol; the pistol was also reported stolen. Authorities located the gun at the pawn shop, and ballistics testing determined that it was the gun that killed Morris. Authorities learned that the man who had been arrested had stolen the gun from a friend in Oregon. The man who was arrested was cleared of any involvement in the homicide. The gun's owner also denied any involvement in the case and claimed that he had an alibi. After investigating the owner's alibi, authorities cleared him in the case as well. They are now wondering who took the gun from the owner's house, killed Morris, and returned it without the owner's knowledge. Authorities have few clues or suspects in the case, which remains unsolved.
Suspects: The owner of the gun was considered a possible suspect in the case, but was later cleared.
Extra Notes: This case first aired on the December 5, 1990 episode.
Results: Unsolved. Sadly, in 1995, it was determined that the ballistic tests on the alleged murder weapon had been botched, meaning that the gun was not the weapon. Police have few leads in the case, and it remains open and unsolved.
Links:
---
Ad blocker interference detected!
Wikia is a free-to-use site that makes money from advertising. We have a modified experience for viewers using ad blockers

Wikia is not accessible if you've made further modifications. Remove the custom ad blocker rule(s) and the page will load as expected.