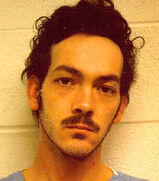 Real Name: Michael Wayne Wilburn
Aliases: None Known
Wanted For: Murder, Escape
Missing Since: August 1996
Details: Michael Wilburn was a 32-year-old employee of the construction business operated by Fulton, Mississippi resident Lila Hood and her husband. Wilburn quit his job on December 30, 1995, and a week later, got into an argument with Lila over his paycheck. A month afterward, Lila was found shot to death by a .25 caliber hand gun.
On February 14, 1996, Wilburn was arrested for shoplifting in Tupelo, Mississippi. Afterward, he was returned to Fulton and charged with Lila's murder. Nine months later, on August 15, 1996, Wilburn escaped from the Itawamba County Jail and has not been seen since.
Extra Notes: This case first aired on the November 15, 1996 episode of Unsolved Mysteries.
Results: Captured. On December 20, 1996, Wilburn was arrested, and was found guilty of the murder and is now serving a life sentence without the possibility of parole.
Links:
---
Ad blocker interference detected!
Wikia is a free-to-use site that makes money from advertising. We have a modified experience for viewers using ad blockers

Wikia is not accessible if you've made further modifications. Remove the custom ad blocker rule(s) and the page will load as expected.