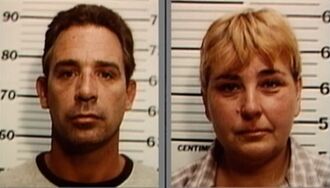 Real Names: Michael Wayde Mohon and Sharon Shaw Mohon
Aliases: Claude Tillman (Michael)
Wanted For: Attempted Murder, Robbery, and Escape
Missing Since: February 1985
Case
Details: On December 31, 1983, Michael Mohon was arrested after struggling with and attempting to kill police officer Kevin Arnold. Arnold was able to shoot him several times during the struggle. He had previously escaped from several prisons throughout California and Arizona.
In January 1985, while being transferred from a local hospital where he was recovering from his injuries, Mohon was able to obtain a handgun and pull it on the officer who was transferring him. He handcuffed the officer to a pole and escaped with the help of his wife, Sharon. She was arrested several days later and was charged with aiding and abetting a fugitive. She pleaded guilty to the charges and was later paroled. He was arrested a few days after that, after leading authorities on a two-hour high speed chase. After his arrest, he said that his name was "Claude Tillman" but the officers did not believe him. The next day, he was identified as Mohon.
His most recent escape occurred on February 7, 1985, in Phoenix, Arizona. He and several other inmates were being transported in a van when it made an unscheduled stop. While the driver was away for a second, Mohon and another inmate, Jeffrey Leslie, escaped by kicking out the windows and running to the crowded campus of Arizona State University. They stole a pickup truck and fled. Authorities now believe that Mohon may now be with Sharon, and that they are still on the run together.
Extra Notes: This case first aired on the April 12, 1989 episode.
Results: Captured. Michael and Sharon were arrested in Mobile, Alabama, shortly after the broadcast. They were using the names Steve and Mary Boswick. A viewer recognized Michael as a man who had recently painted their house. On July 17, 1989, he was returned to a California prison. Sharon was returned to prison for violating parole. The attempted murder charge against Michael was later dropped. They both served time and have since been released. Sadly, Kevin Arnold passed away in 1995.
Links:
---
Ad blocker interference detected!
Wikia is a free-to-use site that makes money from advertising. We have a modified experience for viewers using ad blockers

Wikia is not accessible if you've made further modifications. Remove the custom ad blocker rule(s) and the page will load as expected.