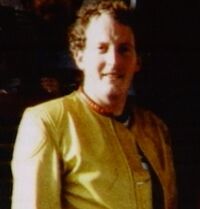 Real Name: Michael Hunter
Nicknames: No known nicknames
Location: Emeryville, California
Date: February 24, 1992
Details: At 8:33 pm on the night of February 24, 1992, thirty-year-old motorcyclist Michael Hunter pulled into a Emeryville, California gas station near San Francisco. He was seeing riding in an erratic fashion, weaving back and forth. Once he stopped, he fell off of his bike. Paramedics soon arrived in attempt to revive him; they were baffled by the lack of external injuries or blood.
He was later taken to a hospital where doctors discovered that he had been shot three times by a small caliber weapon. Sadly, he later died from those wounds. Police searched through his life in hopes of finding a motive for the killing. Since the 1980s, Michael was a competitive motorist who had survived hundreds of dangerous competitions. He had no known enemies and police could find no reason for him to have been killed.
Investigators began looking into the night of his murder. The night was unseasonably warm. They found that at 7:45 pm, he left home on his red, white, and blue motorcycle. He first stopped at an ATM about a half mile away, where he withdrew $20. Nothing appeared to be wrong on the ATM surveillance photos.
He then arrived at a liquor store a half block away and bought a pint of whiskey. It is unknown what happened next, but they traced his possible route to a frontage road three miles away from the gas station near the Golden Gate Bridge. It is believed he might have met his killers at the viewpoint. The killer(s) may have robbed him at gunpoint of his wallet. Investigators theorize that they demanded he give them his motorcycle as well. When he refused, they believe he was shot by the robbers. Another theory is that he stumbled on something he should not have seen. Somehow, he was able to drive to the gas station several miles away. His family has raised a $10,000 award for tips to catch his killers. Investigators are hoping that witnesses will come forward to help solve the case.
Suspects: Although it is suspected that Michael's killers were robbers, no suspects have ever been identified.
Extra Notes: This case first aired on the February 10, 1993 episode.
Results: Unsolved
Links:
---
Ad blocker interference detected!
Wikia is a free-to-use site that makes money from advertising. We have a modified experience for viewers using ad blockers

Wikia is not accessible if you've made further modifications. Remove the custom ad blocker rule(s) and the page will load as expected.