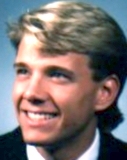 Real Name: Michael Jefferson Adams
Nicknames: No known nicknames
Location: Abilene, Texas
Date: June 8, 1987

Occupation: Grocery Store Employee
Date of Birth: March 28, 1969
Height: 6'0-6'1
Weight: 145-150 pounds
Marital Status: Unrevealed
Characteristics: Caucasian male, blond hair, blue eyes

Details: On June 8, 1987, 18 year old Michael Adams returned home after leaving work at a local grocery store in Abilene, Texas. He was last seen by his sister at around 11:30 pm, when she saw him standing next to a car that was idling outside of their home; he was leaning into the car, talking to the occupants. The next morning, he was discovered missing and his bed didn't appear to be slept in. He was never heard from again. His wallet was in his room, and his car was parked strangely in the driveway. Several of his friends were questioned and were given polygraphs; all passed and were cleared as suspects. His disappearance remains unsolved.
Suspects: The unidentified vehicle that Michael was seen with the night he vanished was a dark-colored, two-door vehicle with opera windows in the back and a possible malfunctioning headlight. It was possibly a 1973-1978 Chevrolet Monte Carlo, Oldsmobile Cutlass or Oldsmobile Toronado.
Extra Notes: The case has appeared on the show Missing: Reward. His family requested that his story be shown on Unsolved Mysteries, but it was denied. Sadly Michael's Mother, Barbara passed away in 2016 and his step brother, Perry, in 2011 aged 37.
Results: Unsolved. In 1994, he was declared legally dead, but no one has ever been arrested in the case.
Links:

---
Ad blocker interference detected!
Wikia is a free-to-use site that makes money from advertising. We have a modified experience for viewers using ad blockers

Wikia is not accessible if you've made further modifications. Remove the custom ad blocker rule(s) and the page will load as expected.