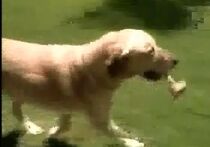 Real Name: Mia
Case: Unusual Phenomenon
Location: Garberville, California
Date: 2000
Details: Nancy Best, of Garberville, California, was the mother of three children and owned and ran two successful coffee shops. But despite her hectic lifestyle, she always spent the afternoon with her dog Mia. Then, one afternoon in early 2000, she noticed that Mia was acting strangely and that she started biting at her shirt and licking at her breast. Desperate for some sleep, she banished her to the backyard, but she was still persistent.

Then one afternoon, Mia hit her nose against Nancy's breast so hard that it hurt, and when she felt it, she felt a lump, and medical tests showed that it was cancerous. She had a mastectomy, and since then, she has been cancer-free. She contributes her survival to Mia, because she probably wouldn't have found the lump, and within a few months she may have died.
Extra Notes: This case first aired on the July 15, 2002 episode as a part of a segment on pets who sense illnesses in humans along with Shadow.
Results: Unsolved
Links:
---
Ad blocker interference detected!
Wikia is a free-to-use site that makes money from advertising. We have a modified experience for viewers using ad blockers

Wikia is not accessible if you've made further modifications. Remove the custom ad blocker rule(s) and the page will load as expected.