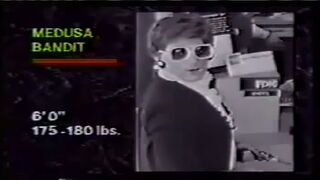 Real Name: Unknown
Aliases: Medusa Bandit
Wanted For: Armed Robbery
Missing Since: September 30, 1988

Details: In September 1988, a bank in Chicago was robbed by a man disguised as a woman. He is a white male, 6'0" tall and 170-180 pounds. Due to the horrific disguise, the robber was dubbed the "Medusa Bandit", after the legendary ugly woman. He has never been positively identified and remains a national fugitive.
Extra Notes: The case was featured as a part of the November 29, 1989 episode, along with the Garbage Bag Bandit and Shorts Robber.
Results: Wanted
Links:
---
Ad blocker interference detected!
Wikia is a free-to-use site that makes money from advertising. We have a modified experience for viewers using ad blockers

Wikia is not accessible if you've made further modifications. Remove the custom ad blocker rule(s) and the page will load as expected.