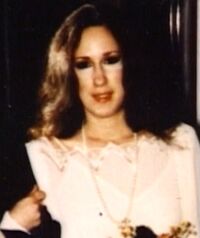 Real Name: Mary Levinson
Nicknames: No known nicknames
Location: Chicago, Illinois
Date: November 30, 1987
Details: In 1987, thirty-three year old Mary Levinson became a follower of Terri Hoffman, the leader of a spiritual movement called "Conscious Development of the Body, Mind and Soul". Shortly thereafter, on November 30, 1987, Mary was discovered dead in a Chicago motel room. The autopsy revealed a needle puncture mark on her left wrist. It was concluded that she overdosed on two types of prescription sleeping pills.
Two weeks prior, she changed her life insurance policy, replacing her youngest brother Paul as beneficiary with Dr. Larry Keyes, a former boyfriend she met at a retreat with Ms. Hoffman. After her death, her family found that the $125,000 that she received from a divorce settlement and $3,200 worth of jewelry was missing. The money and jewelry have never been found. Mary left behind a taped message for her family stating, among other things, that she used the divorce settlement money to pay off small debts and make donations to animal welfare societies. However, she refused to name any recipients of these donations. In the tape she spoke of her death, "I want you to understand that I am fully rational and I have come to this decision after a long time of thinking. I am actually looking forward to it."
Her family believes that Terri was with Mary when she died, led her to suicide through manipulation or some form of hypnotism, and then stole her valuables. However, Terri has not been charged in the case. Mary became the 10th victim of similar suicides involving Terri Hoffman and her spiritual teachings.
Suspects: Terri Hoffman
Extra Notes: The case was featured as a part of the November 10, 1995 episode, which focused mainly on missing follower Charles Southern Jr.
Results: Unsolved
Links:
---
Ad blocker interference detected!
Wikia is a free-to-use site that makes money from advertising. We have a modified experience for viewers using ad blockers

Wikia is not accessible if you've made further modifications. Remove the custom ad blocker rule(s) and the page will load as expected.