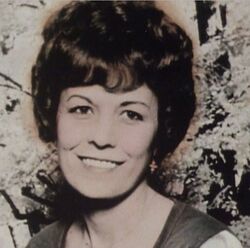 Real Name: Mary Anne Perez
Nicknames: No known nicknames
Location: Chalmette, Louisiana
Date: March 25, 1976

Occupation: Unrevealed
Date of Birth: 1943
Height: 5'4"
Weight: 108 lbs.
Marital Status: Divorced
Characteristics: Caucasian female. Brown hair, blue eyes
Details: On March 25, 1976, Mary Ann Perez left her home in Chalmette, Louisiana to meet with a girlfriend and was never seen again. At approximately 1:30 in the morning the following day, her daughter, Donna, got a call from a woman named Dorothy, the woman claimed she was a friend of hers and that she was having car troubles and would be home soon. Despite the claim by the apparent friend, her car was found abandoned and in perfect condition. Three days later her purse was found in a lake 10 miles away. There has been no sign of her since.

Suspects: David Courtney
Extra Notes: This case first aired on the October 30, 1991 episode.
Results: Unresolved. Several days after Mary Ann vanished from her Chalmette home, a serial killer named David Courtney confessed to having killed her, although her body was never found. Since his confession, several mysterious calls to her family has led them to believe that she is still alive and being held captive somewhere. Sadly, her daughter, Shannon, passed away in 2009.
Links:
---
Ad blocker interference detected!
Wikia is a free-to-use site that makes money from advertising. We have a modified experience for viewers using ad blockers

Wikia is not accessible if you've made further modifications. Remove the custom ad blocker rule(s) and the page will load as expected.