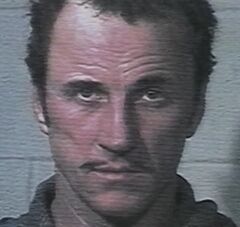 Real Name: Marvin Charles Gabrion II
Aliases: Robert Allen
Wanted For: Rape, Murder
Missing Since: June 3, 1997
Details: In 1996 in Grand Rapids, Michigan, Marvin Charles Gabrion II raped Rachel Timmerman. Rachel planned to testify against Gabrion in the summer of 1997, but on June 3, 1997, Rachel and her infant daughter, Shannon Verhage were picked up by an unidentified man and disappeared. On July 5, Rachel was found brutally raped and murdered in Oxford Lake. Police believed that Gabrion murdered Rachel in an ill-conceived attempt to keep her from testifying against him in his criminal activities.
Gabrion was soon tied to the disappearances of three men. Wayne Davis, a friend of Marvin who was with him on the night he raped Rachel, vanished sometime during 1997. John Weeks, a friend of Rachel's who was later identified as the person that picked her and Shannon up on the day of their disappearance, vanished in June of 1997. Robert Allen, a transient from Grand Rapids whose identity was being used by Gabrion, vanished sometime during 1997. None of these people have been located and Gabrion is now wanted for Rachel's murder.
Extra Notes: This case first aired on the April 10, 1998 episode.
Results: Captured. Gabrion was arrested in July of 1998 and was convicted in the murder of Rachel Timmerman, and was later sentenced to death. The body of Wayne Davis was found in July 2002, and Gabrion remains the prime suspect. However, Shannon Verhage, John Weeks, and Robert Allen remain missing. He appealed his sentence and conviction, but it was upheld in 2006. In August 2011, Gabrion's death sentence conviction was overturned and it was changed to life in prison. In May 2012, Gabrion's death sentence was reinstated by a federal appeals court stating "that Michigan lacks a death penalty has nothing to do with these things. It has nothing to do with Gabrion's background or character. It has nothing to do with the reasons why he chose to kill Rachel Timmerman. It has nothing to do with the utter depravity of the manner in which he killed her, and above all, it has nothing to do with his culpability for that offense or with any other consideration the Supreme Court has ever flagged as mitigating. Gabrion does not even argue the contrary."
Links:
---
Ad blocker interference detected!
Wikia is a free-to-use site that makes money from advertising. We have a modified experience for viewers using ad blockers

Wikia is not accessible if you've made further modifications. Remove the custom ad blocker rule(s) and the page will load as expected.