Real Name: Marlene Santana
Nicknames: No known nicknames
Location: Brooklyn, New York
Date: October 21, 1985
Occupation: Minor
Date of Birth: October 18, 1985
Height: 1'8"
Weight: 7 lbs.
Marital Status: Single
Characteristics: Hispanic female. Brown hair and eyes
Details: Marlene Santana was the infant daughter of Francesca and Thomas Santana. She was born on October 18, 1985, at Brookdale Hospital. Three days later, Francesca was preparing to bring her home when she met a woman outside of the nursery. The woman told her that Marlene was the most beautiful, quiet, and well-behaved baby in there.
A few hours later, at 9pm, Francesca and Marlene left the hospital with two of Francesca's sisters-in-law. As they went through the entrance, the woman from earlier came up to them. She pulled out a gun, put it to Marlene's head, and told them to walk.
The assailant led the women to a junkyard six blocks from the hospital and threatened to kill Francesca if she didn't give her Marlene. She complied and the woman escaped in a waiting car. Marlene has not been seen since.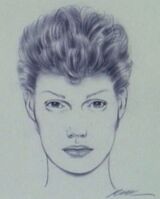 Suspects: Police believe that the women might have been mentally disturbed and unable to have a child of her own. She is described to be 5'2" and 130 lbs, and between the ages of 24 and 30 in 1985. She was Caucasian with Hispanic features, but had no accent. Her accomplice's car was a white 1976 Chevrolet Malibu with red lettering on the door.
Marlene is believed to have been sold for adoption by her abductor. There was a similar abduction that occurred at another New York hospital several weeks before this one, but police were unable to find a link between them.
Extra Notes: This case first aired on the January 25, 1989 episode, along with Christopher Abeyta and Carlina White.
Because she was just a newborn, no photographs are available of Marlene.
Results: Unsolved
Links:
---