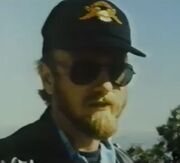 Real Name: Mark Groezinger
Nicknames: No Known Nicknames
Location: Golden, Colorado
Date: April 6, 1984

Case
Details: On the morning of April 7, on Lookout Mountain west of Denver, Colorado, Mark Groezinger, 29, was found murdered and lying in his car on the highway over a bluff. He had been shot repeatedly at close range by an unknown killer using a .38 revolver. Police found several expensive items that were his and ruled out robbery. The murder appeared to be a crime of passion, and his wife, Judy, was suspected. Despite an extensive search, no murder weapon was ever found, and his murder has never been solved.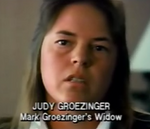 Suspects: The chief suspect in this case is Judy. She had purchased a .38 revolver three days before the murder. Further, she had indicated she last saw Mark at 8 PM, while other people indicated they had already seen the car in the place where it was abandoned by then. Further, the gun's seller indicated that she was accompanied by a man who wasn't Mark at the pawn shop and that she inquired about purchasing ammunition, which she denied. She had indicated that Mark went to a liquor store after dropping her off and a friend, but the person working there that night indicated he was not there, but rather, Judy and the man from the pawn shop were there. Lastly, that friend moved in with her the day after Mark's murder. There is no concrete evidence linking her directly to the murder. She is currently considered a person of interest in the case.
Extra Notes: This case first aired on the January 24, 1990 episode.
Results: Unsolved
Links:
---
Ad blocker interference detected!
Wikia is a free-to-use site that makes money from advertising. We have a modified experience for viewers using ad blockers

Wikia is not accessible if you've made further modifications. Remove the custom ad blocker rule(s) and the page will load as expected.