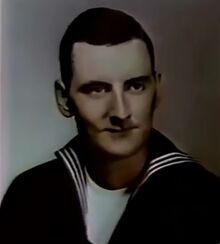 Real Name: Mark Dennis
Nicknames: No known nicknames
Location: Vietnam
Date: July 15, 1966
Occupation: US Navy Medic
Date of Birth: 1946
Height: 5' 9 1/2" to 6'
Weight: Unrevealed
Marital Status: Single
Characteristics: Deeply religious, wanted to become a missionary after completing military service
Details: Mark Dennis joined the US Navy, where he got certified as a medical corpsman. He later was deployed to Vietnam to serve as a medic to a Marine unit. However in July of 1966 a USMC helicopter was hit by antiaircraft fire and crashed to the ground. Thirteen men were killed, to include Mark. He was later declared killed in action, and remains were sent to his family that were supposedly his. For a few years, they believed that the remains were his. However, his brother, Jerry, later discovered a newspaper photo and circumstantial evidence to suggest Mark was alive and possibly being held alive in Vietnam. Jerry found out that everyone that was killed in the helicopter crash was positively identified, except for Mark, whose identity was assumed through process of elimination. In 1971, a friend of Mark's said that he was not on the helicopter when it crashed and that he allegedly was being held in a prison in Vietnam. Afterwards, Jerry had the remains that were believed to be Mark's exhumed. Forensic analysis showed that the y were of someone of about 5'7" in height, while he was actually over 6'0" tall. Scrapings from them were determined to be lead which was not what the helicopter that he was in was made of. In 1981, one of the helicopter survivors stated that two of the people on board had apparently jumped out, although the military did not believe this account since all of their remains were accounted. The Dennis family appealed to the Board of Correction of Naval Records to get Mark's status changed from "killed in action" to "missing in action". but this case ruled that Mark's service record not be changed. In December 1986, Jerry was at a bar where a man named John King overheard a conversation he was having about POWs and about Mark. John said that he had met a man in the Vietnam prison camp with the nickname "Preacher" that Jerry believed was Mark's nickname during the war. John said he was positive that Mark was the man known as "Preacher" when he saw Mark's photograph. Afterwards, Jerry lost touch with John but believes what he said is true. The military continues to say that the remains given to the Mark's family are his, but Jerry is convinced that he is still alive.
Suspects: None
Extra Notes: This case first aired on the December 12, 1990 episode.
Results: Unresolved. John King was located after the broadcast and was later revealed to be a fraud. Forensic examination of the remains believed to be Mark's did confirm his identity with the help of x-rays of his spine.
In recent years, the bones in the possession of the Dennis family were tested and proven they were not Mark Dennis. His whereabouts are still unrevealed.
Links:
---
Ad blocker interference detected!
Wikia is a free-to-use site that makes money from advertising. We have a modified experience for viewers using ad blockers

Wikia is not accessible if you've made further modifications. Remove the custom ad blocker rule(s) and the page will load as expected.