Real Name: Mario Lozano
Aliases: None known
Wanted For: Murder
Missing Since: 2004
Details: Mario Lozano is wanted for the murder of Isaac Guzman, 17, which occurred in Watsonville, California, on December 3, 2004. Lozano was dating Isaac's cousin Roxanne prior to the murder. When Isaac learned that Roxanne was being abused by Lozano, he confronted him. Several days later, on December 3, Lozano met Isaac in front of Isaac's high school and the two got into an argument. Lozano pulled out a knife and stabbed Isaac multiple times. Tragically, Isaac Guzman passed away at a nearby hospital. Lozano fled the scene and was later charged with murder.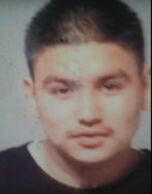 Since his disappearance, Lozano has been spotted in Mexico, Arizona, Idaho, and California. He is 5'8", weighs 150 pounds, has black hair and brown eyes. He has a tattoo with the name "Roxanne" on the right side of his neck. He also has a birth mark on the right side of his chin. There is a $20,000 reward available in this case.
Extra Notes: The case was uploaded to the Unsolved Mysteries website on January 15, 2016. The person interviewed in the video is murder victim Isaac Guzman's aunt Sally.
Results: Wanted
Links: None known
---
Ad blocker interference detected!
Wikia is a free-to-use site that makes money from advertising. We have a modified experience for viewers using ad blockers

Wikia is not accessible if you've made further modifications. Remove the custom ad blocker rule(s) and the page will load as expected.