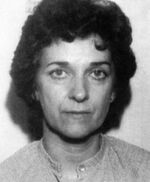 Real Name: Audrey Marie Hilley
Case: Murder
Location: Aniston, Alabama
Date: 1975
Details: Frank and Marie Hilley of Aniston, Alabama, married in 1950 and had two children, Mike and Carol. Frank was a supervisor at the local foundry and Marie was a housewife. By outward appearances, the family was perfect and loving. Everything changed when Frank and the children became sick with stomach problems. Mike was eighteen at the time; he recalled that the illnesses began just a few months after life insurance policies were purchased on him, his sister, and his father.
Doctors were unable to diagnose the stomach problems. However, the problems went away for Mike when he left for college. After that, Frank's stomach problems became worse. During this time, the couple's marriage was falling apart. One day, Frank had come home from work to find Marie in bed with one of her employers. Mike believes that his father was planning on divorcing his mother.
As Frank's sickness began to worsen, he was taken to the local hospital. Marie rarely left his side, continuing to feed him her own meals. On May 25, 1975, Frank died at the hospital. The official cause of death was hepatitis. Marie spent little time mourning. The proceeds from Frank's life insurance totaled more than $30,000. With that money, she refurnished the home, bought a new car, along with new clothing and jewelry. Even after the money ran out, she continued buying.
Mike received phone calls from creditors, wanting money from him. Marie had promised to her creditors that her son would pay for them. Four years after her father's death, Carol, then eighteen, began suffering from similar symptoms that her father and brother had suffered from. At the time, nobody knew that Marie had purchased a life insurance policy on Carol.
Shortly after Carol became ill, Mike returned to Alabama to confront his mother about her overspending. That morning, she cooked him breakfast. Once again, Mike fell ill. He recovered and returned to his home in Florida. However, Carol's conditioned worsened and she was taken to the hospital. She eventually became paralyzed from the waist down. Marie injected her with something in her hip, claiming that it would help her. However, it only made things worse.
On September 20, 1979, Marie was arrested for passing bad checks. The hospital staff re-examined Carol and found evidence that she had been poisoned with arsenic. In October 1979, Frank's body was exhumed for a second autopsy. It was determined that he had died as a result of arsenic poisoning. On January 11, 1980, an arrest warrant was issued, charging Marie with the murder of her husband. However, she had already vanished.
Extra Notes: This case first aired as as part of the "Diabolical Minds" episode on November 3, 1991. This was an unusual case for Unsolved Mysteries as it had already been solved before being broadcast; rather the focus was on the diabolical mind. Other profiled in this special were G. Daniel Walker, Ted Bundy and Saddam Hussein. As the above were all male, Marie Hilley was profiled for being a rare case of a female having a diabolical mind. Marie Hilley was also profiled on The New Detectives and Deadly Women​. Although Carol was not murdered as was her father, Marie was wanted for causing undue harm to her daughter.
Results: Solved. In 1980, Marie Hilley resurfaced in Florida under the name of Robbie Hannen and met a man named John Homan. She claimed that she was a widow and was about to inherit a large estate. She also claimed that she had a life-threatening brain cancer. They began dating and got married in May 1981. She soon found a job as a secretary. In September 1982, Robbie claimed that her cancer had worsened, so she had to go to Texas for treatment. A short time later, John got a call from her "twin sister", Teri Martin, claiming that Robbie had died.
After getting to know "Teri Martin" by phone, John wished to meet her in Florida. In actuality, Marie Hilley had once again reinvented herself as Teri Martin, getting in shape and coloring her hair blonde. John Homan was taken with his "sister-in-law" and started dating her.
However, friends of John, as well as other members of the Homan family, suspected something was amiss and began to keep a close eye on John, warning him about his relationship with "Teri" as well as lack of death certificate for his lawfully wedded wife "Robbie". Their suspicions proved right, as their cooperation with local police proved vital to piece together the search for the missing Marie Hilley.
In January 1983, Marie was arrested and returned to Alabama. She was sentenced to life in prison for Frank's murder. In 1987, she escaped. However, her freedom was short-lived as she contracted hypothermia in the wild back-country during the winter months. One week after her escape, Marie Hilley died from prolonged exposure to the cold.
Links:
---
Ad blocker interference detected!
Wikia is a free-to-use site that makes money from advertising. We have a modified experience for viewers using ad blockers

Wikia is not accessible if you've made further modifications. Remove the custom ad blocker rule(s) and the page will load as expected.