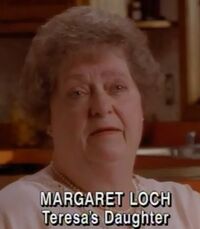 Real Name: Margaret Wilson-Loch
Case: Ghosts
Location: Michigan
Date: September 1982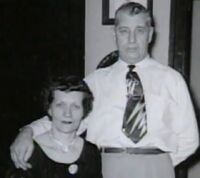 Details: Margaret Loch is the daughter of Frank and Teresa Wilson. The couple married in 1926 and had seven children before Frank died of a heart attack on February 23, 1960. In 1981, Margaret began making a memory book with letters from family and friends for her mother's 80th birthday. In September of 1982, shortly before the party, Margaret claimed that on a sleepless night, her father appeared as a spirit and asked her to write a letter to put in the memory book. In his letter, Frank said that he would be by her side at her birthday party and will always be with her. The next morning, Margaret woke up and believed that her father's visit was a dream. However, when she read the letter that she had written down, she realized that it had not been a dream.
On September 19, 1982, Teresa arrived at the surprise party for her birthday. The first gift she opened was the book of letters that everyone had written for her. The first letter was the one 'written' by Frank. She could only get through a few lines before she began to cry. She was shocked and overjoyed by the letter that had been 'written' by Frank.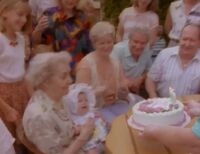 Although Teresa originally thought Margaret had written the letter to include Frank in the book, she later learned of the ghostly encounter. She realized that Margaret could not have known several details in the letter, such as special nicknames that they had for each other. Over a decade after the party, Teresa still keeps the letter as one of her last links to her one true love. In September of 1994, Teresa celebrated her 92nd birthday with her family, along with the Unsolved Mysteries crew and possibly the spirit of Frank.
Extra Notes: The case was featured as a part of the December 9, 1994 episode. Teresa lived for six more years after the segment: she passed away in 2000. Margaret Loch, Teresa's Daughter passed away in 2012.
Results: Unsolved
Links:
---
Ad blocker interference detected!
Wikia is a free-to-use site that makes money from advertising. We have a modified experience for viewers using ad blockers

Wikia is not accessible if you've made further modifications. Remove the custom ad blocker rule(s) and the page will load as expected.