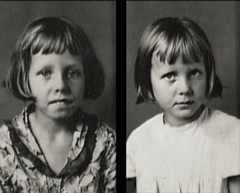 Real Names: Madeline and Ada Underwood
Case: Lost Friends
Date: 1941
Location: Tennessee

Details: Charlie Best, his wife, Alva, and children, Zella Mae, Carl, and Verlan, lived on their farm in Eastern Tennessee during the Great Depression. They supported themselves by growing watermelon and tobacco. In Spring 1939, the Best family gave refuge to the Underwood family. Tom Underwood asked if he and his daughters, Madeline, 9, and Ada, 7, could stay in their barn, but Charlie insisted that they stay in the house. That evening, Tom told them about how they had fallen on hard times months earlier. The girls' mother had died, so the three of them had been travelling the countryside while he looked for work. The next morning, they left to go stay with friends in another part of Tennessee.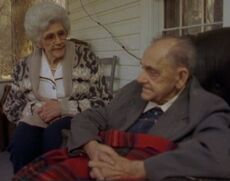 A few days later, however, Zella Mae saw them passing by and told them that they could come stay with the Bests again. Tom agreed to leave them in their care while he looked for a job. The girls soon became part of the family; Charlie treated them as if they were his daughters. They went to school with them and helped shuck corn on the farm. Madeline was especially close to Alva, who had a severe nerve disorder. They finally felt happy with their surrogate family.
Within the next two years, Tom visited them twice. Finally, in 1941, he came to take them back. He said that he had married and needed to leave with them as soon as possible. The girls had stayed with the Best family for over two years. They were very reluctant to return to him, but he took them away before Charlie returned.
Three months later, the Bests received a letter from them, stating that Tom had left them at an orphanage in Nashville. However, before Charlie could go and retrieve them, Tom took them back once again. The Bests never heard from them again.
Sadly, Alva and Verlan later passed away. Charlie is now 91 years old and in ill health, however, he still wonders about the girls often. He, Zella Mae, and Carl are still searching for them.

Extra Notes: This case first away on the January 29, 1992 episode.
Results: Solved. Sadly, Madeline passed away in 1978. However, Ada, who now lives in Indiana, was watching the broadcast. Ten days later, she was reunited with Charlie, Carl, and Zella Mae, at Charlie's home in Madisonville, Tennessee.
Sadly, Charlie passed away eight weeks later, but the reunion with Ada brought him great comfort in his final days.
Links:
---
Ad blocker interference detected!
Wikia is a free-to-use site that makes money from advertising. We have a modified experience for viewers using ad blockers

Wikia is not accessible if you've made further modifications. Remove the custom ad blocker rule(s) and the page will load as expected.