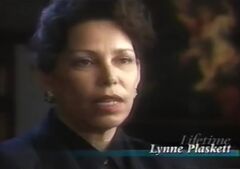 Real Name: Lynne Plaskett
Case: Medical Miracle/UFO
Date: 1975
Location: New Smyrna Beach, Floida

Details: Former county councilwoman and New Smyrna Beach resident Lynne Plaskett developed cancer in 1975. One evening, she sat in her bed, when smoke began to enter the room, and then a small UFO. It went all over her body, and then left. Days later, she went to her doctor, who found that her cancer had suddenly gone into remission. It wasn't until 1981, when zhs saw a UFO story on a TV show that she realized what had happened to her: celestial healing, which is healing from beyond the earth. She believes that this is the reason why she is still alive today.
Extra Notes: The case first aired on the April 25, 1997 episode.
Results: Unsolved
Links:
---
Ad blocker interference detected!
Wikia is a free-to-use site that makes money from advertising. We have a modified experience for viewers using ad blockers

Wikia is not accessible if you've made further modifications. Remove the custom ad blocker rule(s) and the page will load as expected.