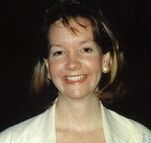 Real Name: Lynn Amos
Nicknames: No Known Nicknames
Date: December 21, 1995
Location: Georgetown District, Washington DC
Details: Lynn Amos worked as a financial consultant in Washington DC. Her body was found in her townhouse after it was set on fire and she died ten days later. Police at first believed that she had died in a tragic accident, but later they determined that she had been murdered and that the fire was deliberately set to cover it up.
Suspects: Police and Lynn's family believe that she was murdered because of her investigation into Mexican banks. Some believe that she knew her killer and that he may have even had a key to her home.
Extra Notes: This case first aired on the December 13, 1996 episode.
Results: Unsolved
Links:
---
Ad blocker interference detected!
Wikia is a free-to-use site that makes money from advertising. We have a modified experience for viewers using ad blockers

Wikia is not accessible if you've made further modifications. Remove the custom ad blocker rule(s) and the page will load as expected.