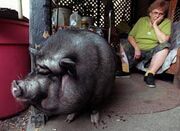 Real Name: Lulu
Case: Animal Heroes
Location: Erie, Pennsylvania
Date: August 4, 1998
Details: On August 4, 1998, Jo Ann Altman was relaxing on the shore of Lake Erie while her husband was fishing when she felt a pain in her chest, her left arm went numb, and realized that she was having a heart attack. Nobody heard her screams, except for Lulu, her pot-bellied pig. Minutes later, a man found her and called 911, and she was saved just in time. She was shocked when she learned how he found her. Lulu had sensed danger when Jo Ann was having the heart attack, and she squeezed through the doggie door to get help. She then went through the gate, to the campground's main road, sat down, and went back a few times to check on Jo Ann. Then the man stopped his car and followed her to Jo Ann. She believes the reason that Lulu saved her was because she loved her. Also, at the end of the segment, she asked for the unknown man who followed Lulu and called 911 to come forward so he could receive a reward.
Extra Notes: This case first aired on the June 4, 1999 episode about animal saviors that also involved a dog named Norman.
Results: Unsolved
Links:
---
Ad blocker interference detected!
Wikia is a free-to-use site that makes money from advertising. We have a modified experience for viewers using ad blockers

Wikia is not accessible if you've made further modifications. Remove the custom ad blocker rule(s) and the page will load as expected.