Real Name: Lucie Turmel
Nicknames: No Known Nicknames
Location: Banff, Alberta
Date: May 17, 1990
Details: Lucie Turmel was a 23 year old cab driver who had recently moved to Banff, Alberta, to start a new life, had picked up a fare late at night on May 17, 1990. A few minutes later, another cab driver noticed Lucie's car drive in front of him, but he realized that a man was driving and not Lucie. The cab driver followed Lucie's cab until the man drove off the side of the road and ran off into a woooded area. Tragically, a few minutes later, Lucie's body was found in the middle of a road a few miles from where her cab had been abandoned. The killer only took $130 from Lucie. A few days later, the murder weapon, a kitchen knife from a local hotel, was found in a driveway. However, Lucie's killer remained unidentified.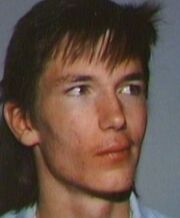 Suspects: An unknown caucasian male had been seen by another cab driver driving Lucie's car on the night she died.
Extra Notes: The case was featured as a part of the October 14, 1992 episode.
Results: Solved. Tips, DNA evidence, and police investigation eventually linked Ryan Jason Love as Lucie's killer. He was convicted of second-degree murder and sentenced to life in prison with parole after twenty years. However, after nineteen years in jail, he was released on parole.
Links:
---
Ad blocker interference detected!
Wikia is a free-to-use site that makes money from advertising. We have a modified experience for viewers using ad blockers

Wikia is not accessible if you've made further modifications. Remove the custom ad blocker rule(s) and the page will load as expected.