Real Name: Karen Stephens Nelson
Case: Lost Friend
Location: Vietnam
Date: 1967
Details: Army helicopter pilot Jim Meade was left seriously injured in a helicopter accident while fighting in Vietnam in 1967. He received a traumatic brain injury that left him unable to walk, talk, eat, or do any basic functions. Then, an army physical therapist named Lt. Karen Stephens started working with him; she started by teaching how to crawl. After that, she taught him how to walk again and then taught him how to eat as well. Lt. Stephens helped him recover physically and emotionally. One year later, she left the army and Jim returned to his family who helped him through the rest of his recovery process. Jim is now a psychologist in San Diego; he is searching for Lt. Stephens to thank her for what she did for him.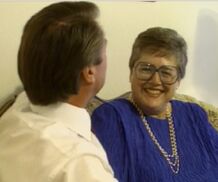 Extra Notes: This case first aired on the September 20, 1989 episode.
Results: Solved. Karen Stephens Nelson was watching the broadcast and contacted the tele-center. A few weeks later, she and Jim were reunited; he was finally able to thank her for everything she did for him.
Links: None
---
Ad blocker interference detected!
Wikia is a free-to-use site that makes money from advertising. We have a modified experience for viewers using ad blockers

Wikia is not accessible if you've made further modifications. Remove the custom ad blocker rule(s) and the page will load as expected.