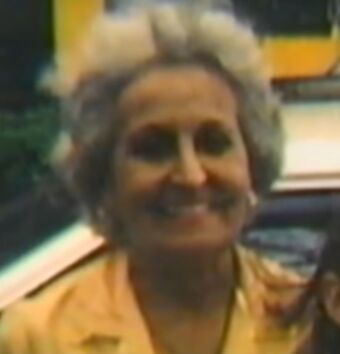 Real Name: Loretta Myers
Nicknames: No known nicknames
Location: Niagara Falls, New York
Date: October 1993/January 23, 1995
Occupation: Unrevealed
Date of Birth: December 6, 1921
Height: 4' 10"
Weight: Unrevealed
Marital Status: Married
Characteristics: Unrevealed
Details: Loretta Myers was a sixty-nine-year-old retired nurse and widow. In the summer of 1991, her family began to worry when she became more forgetful and irrational, which made them believe she was in the beginning stages of Alzheimer's. Their concern grew when a few months later a man named Jerome Johnson several years younger than her started taking care of her and later moved in with her. One day, her son came to visit and discovered that she and Jerome had married, and a few days later they vanished. When her son went in her house, he found that her car was gone, along with her jewelry and hundreds of dollars in cash. Three days later, she and Jerome were pulled over for speeding in Texas, and the officer discovered through the license plate number that she had been reported missing. They were taken to the police station and she talked with her son on the phone, saying she was okay and would be home soon. However, Jerome told him that he would never see her again.
A few weeks later, in November 1993, she talked to her daughter, Katherine, on the phone, telling her that they were in Costa Mesa, California, and Jerome said that they would contact her again, but they didn't. 10 months later, on September 27, 1994, a Montana deputy sheriff found an abandoned vehicle in a Jefferson County forest - which was identified as Loretta's. The sheriff determined that she and Jerome may have been living in it for months. He first called her son to tell him about the discovery, and then called for backup to impound her car. During this time, she and Jerome, who were apparently hiding in the woods, got back into the car and sped off. The sheriff gave chase, but lost sight of it and they disappeared again. The last sighting of them was on January 23, 1995, in Chandler, Arizona. Tragically, they still have not been found.
Suspects: Jerome Johnson
Extra Notes: The case first aired on the February 10, 1995 episode.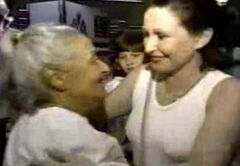 Results: Solved. After Loretta's story was re-aired in July 1995, a viewer called the telecenter, claiming that Loretta and Jerome were sitting in a car outside of the viewer's home. Three days later, Bellingham police found the two at a local shopping mall. Jerome Johnson was detained for a day and was later released.
Loretta was then returned to Buffalo, New York, where she was joyfully reunited with her daughter, Kathy, and granddaughter, Ashley. She was later reunited with her son Joe and other relatives. Loretta's marriage to Jerome Johnson was later annulled. However, Johnson was never charged in the case. Sadly, Loretta passed away in 2001 at age 79.
Links: None
---
Ad blocker interference detected!
Wikia is a free-to-use site that makes money from advertising. We have a modified experience for viewers using ad blockers

Wikia is not accessible if you've made further modifications. Remove the custom ad blocker rule(s) and the page will load as expected.