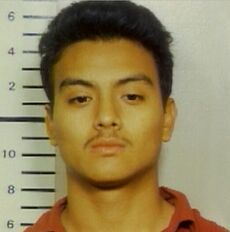 Real Name: Lionel Luviano
Aliases: No known nicknames
Wanted For: Drug-Trafficking, Escape
Missing Since: October 4, 1994

Details: Twenty-one-year-old Lionel Luviano once lived a life of excess with cars, motorcycles, expensive clothes and girlfriends. It was a life fueled by the obscene drug-trafficking of an international narcotics ring broken up after a six-month sting by the Houston Police Department in Texas. He was arrested on August 4, 1994, and faced several years in prison.
Shortly before he was arrested, he sustained serious injuries in a motorcycle accident. The police had no choice but to allow him to continue receiving medical treatment in a private hospital. He was placed in a guarded room in Houston's LBJ Hospital. While there, he was shackled to his bed at all times. He shared room 3B3 with a total stranger, Vasquez Martinez, who was the victim of an armed robbery gone wrong.
On October 4, three visitors (two women and one man) arrived at the hospital. They claimed that they were visiting Vasquez, so the guard let them in. After the guard shut the door, the visitors, who were actually Luviano's relatives, put their plan into action. They cut off his handcuffs and had him shave. Luviano's sister then gave him her clothes and a wig to make him look like a woman. Luviano and the two other relatives then left the hospital room without the guard noticing.
Luviano's sister stayed behind; she held Vasquez at gunpoint to keep him from seeking help. A few minutes later, it was discovered that Luviano had escaped. His sister would slip away during the confusion. However, she and the two other relatives were soon arrested. To this day, Lionel Luviano remains at large. It is believed that he is hiding out somewhere in Mexico. He is 5'5", 120 pounds, has brown eyes and black hair, and would today be forty-four-years-old. He was born on August 8, 1973.
Extra Notes: This segment originally ran on the May 5, 1995 episode.
Results: Wanted
Links:
---
Ad blocker interference detected!
Wikia is a free-to-use site that makes money from advertising. We have a modified experience for viewers using ad blockers

Wikia is not accessible if you've made further modifications. Remove the custom ad blocker rule(s) and the page will load as expected.