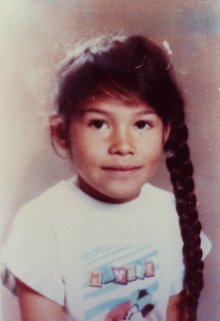 Real Name: Leticia Hernandez
Nicknames: Tita
Location: Oceanside, California
Date: December 16, 1989

Occupation: Minor
Date of Birth: December 14, 1982
Height: Unrevealed
Weight: Unrevealed
Marital Status: Single
Characteristics: Hispanic female, brown hair and eyes.

Details: On December 16, 1989, seven-year-old Leticia Hernandez was abducted from the front yard of her apartment which she shared with her parents, grandmother, and six siblings in Oceanside, California. Since then, there have been several reported sightings of Leticia with a man and a woman in their late twenties throughout the United States. The last sighting occurred in Texas, but Leticia has never been found.
Suspects: The suspected abductors were described as a man and a woman in their late twenties or early thirties.
Extra Notes: The case was featured as a part of the January 24, 1990 episode as a roll call of missing children cases, along with Jessica Gutierrez, David Borer, and Malakia Logan. America's Most Wanted also profiled Leticia's disappearance on February 4, 1990.
Results: Unresolved. On March 9, 1991, Leticia's remains were found off county Highway S16, 23 miles from where she was abducted. The medical examiner determined that she had died between three months and a year earlier. Police believe that she was murdered, and although a man that lived near the Hernandez family was suspected in her murder and investigated by a federal grand jury, no one has ever been arrested. Her mother, who was also named Leticia Hernandez, died in 1998, without ever learning who killed her daughter, and the case remains unsolved.
Links:
---
Ad blocker interference detected!
Wikia is a free-to-use site that makes money from advertising. We have a modified experience for viewers using ad blockers

Wikia is not accessible if you've made further modifications. Remove the custom ad blocker rule(s) and the page will load as expected.