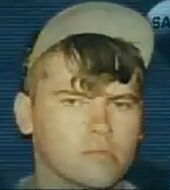 Real Name: Les Johnson
Nicknames: No known nicknames
Location: Salina, Kansas
Date: July 23, 2001

Details: On July 23, 2001, 29 year old Les Johnson rode his bike to work at a construction job in Salina, Kansas, but never returned home. Four months after he vanished, a hunter found Les's remains in a remote field southeast of Marquette in January of 2002, and his bike was found about a mile away. Although the cause of death could not be determined, the police and Les's family believe that he was murdered.
Suspects: A farmer cutting hay saw an out-of-place dark-colored pickup truck using the dead-end road that was near where Les's body was found about four days after Les vanished.
Extra Notes: The case has appeared on the show Haunting Evidence.
Results: Unsolved
Links: 
---
Ad blocker interference detected!
Wikia is a free-to-use site that makes money from advertising. We have a modified experience for viewers using ad blockers

Wikia is not accessible if you've made further modifications. Remove the custom ad blocker rule(s) and the page will load as expected.