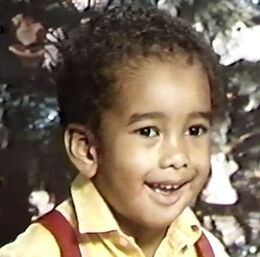 Real Name: Leonard Trigg Jr.
Nicknames: Emikkel
Location: Portland, Oregon
Date: July 28, 1989

Occupation: Unrevealed
Date of Birth: Unrevealed
Height: Unrevealed
Weight: Unrevealed
Marital Status: Unrevealed
Characteristics: Unrevealed

Details: After Leonard Trigg Sr. and Allie Ingrid Trigg divorced they went to court over the custody of their four-year-old son, Leonard Jr. During custody proceedings, the court determined that Leonard's father would be a more suitable parent. Allie was granted only supervised visits with her son. On July 28, 1989, Leonard Trigg Jr. was abducted from his home in Portland, Oregon, by his non-custodial mother Allie. Leonard and Allie were last seen in Raleigh, North Carolina. Allie is a former police officer and could be skilled at changing her identity.
Suspects: Allie Ingrid Trigg
Extra Notes: This segment aired on November 10, 1995; it aired after the update for the case of Keyan and Logan Ivey.

Results: Solved. Two days after the broadcast, an anonymous viewer contacted Portland authorities to get more information about Leonard and his mother. After receiving this information, the tipster called immigration officials in Canada.
On March 20, 1996, Allie Trigg was arrested in Edmonton, Alberta, where she was using the name "Maria Elaine Martin". She returned to the United States to face two counts of custodial interference.
Three days after the arrest, Leonard Sr. brought his son back to Oregon. He was enrolled in the fourth grade and has adjusted well to his new life with his father.
Links: None
---
Ad blocker interference detected!
Wikia is a free-to-use site that makes money from advertising. We have a modified experience for viewers using ad blockers

Wikia is not accessible if you've made further modifications. Remove the custom ad blocker rule(s) and the page will load as expected.