Real Name: Le-Zhan Williams
Case: Lost Son
Location: Vallejo, California
Date: May 17, 1996

Details:
Six week old Le-Zhan Williams was the son of a rising rap star named Lathan Williams and Lathan's girlfriend, 17 year old
Daphne Boyden
. On May 17, 1996, two unidentified girls arrived at the home of Riva Lee Boyden, Daphne's grandmother. The girls apparently wanted to see baby Le-Zhan, and it appeared that Daphne knew the girls. Riva Lee left that afternoon to go to bingo, and when she returned, her house had been set on fire and Daphne, who had been shot to death, would be found inside.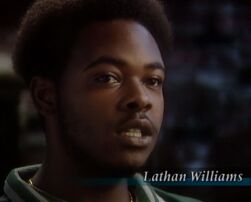 There was no sign of the unknown girls or Le-Zhan in the house, and it was obvious to police that the girls had murdered Daphne and then kidnapped the baby. Police, however, had few leads in the case and no suspects have been identified.
Suspects: A few months before Le-Zhan's abduction and Daphne's murder, Lathan Williams was attacked an shot in the head by an unknown assailant. It has not been determined if the shooting was related to the murder/abduction. The two unidentified girls were seen fleeing from the home as it went ablaze carrying a bundle believed to be baby Le-Zhan. The two girls were teenage African-american females but have never been identified.

Extra Notes:
This segment was featured as part of the November 22, 1996 episode.
Results: Solved. In 2002, six years after Daphne's murder, Le-Zhan was found in a home just two miles away with 22-year-old Latasha Brown and Ocianetta Williams (no relation to Lathan or Le-Zhan Williams), who were arrested in connection to his kidnapping and his mother's murder. Latasha's mother, Delores Brown, was arrested for child concealment and served a one-year sentence. Ocianetta was given a thirteen-year sentence for her connection in the murder and abduction while Latasha was found guilty of murder in 2004 and sentenced to 37 years to life in prison. Le-Zhan was reunited with his family a few weeks after he was found, but sadly, he could not be reunited with his father, Lathan Williams, who was serving an unrelated twelve-year sentence for armed robbery. He was released from prison in 2010.
Links:
---
Ad blocker interference detected!
Wikia is a free-to-use site that makes money from advertising. We have a modified experience for viewers using ad blockers

Wikia is not accessible if you've made further modifications. Remove the custom ad blocker rule(s) and the page will load as expected.