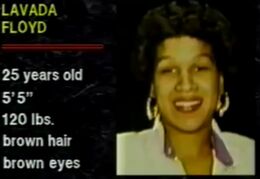 Real Name: Lavada Floyd
Aliases: Lavada Manning, Candy
Wanted For: Drug Trafficking, Posession
Missing Since: Unrevealed

Details: Lavada Floyd is a major Los Angeles crack dealer who sold 1 1/2 kilos of cocaine to an undercover cop. She was in the drug trafficking business with her husband, Dion Floyd, until his arrest in 1988. After his arrest, she disappeared and now faces a mandatory 10 year sentence. She is 5'5" and 120 pounds, has brown hair and brown eyes.
Extra Notes: The case was featured as a part of the November 8, 1989 episode featuring Salvatore Caruana.
Results: Wanted
Links:
---
Ad blocker interference detected!
Wikia is a free-to-use site that makes money from advertising. We have a modified experience for viewers using ad blockers

Wikia is not accessible if you've made further modifications. Remove the custom ad blocker rule(s) and the page will load as expected.