Ad blocker interference detected!
Wikia is a free-to-use site that makes money from advertising. We have a modified experience for viewers using ad blockers

Wikia is not accessible if you've made further modifications. Remove the custom ad blocker rule(s) and the page will load as expected.
Real Name: Lauria Jaylene Bible and Ashley Renae Freeman
Nicknames: No known nicknames
Location: Welch, Oklahoma
Date: December 30, 1999
Occupation: Students
Date of Birth: (Lauria) April 18, 1983, (Ashley) December 30, 1983
Height: (Lauria) 5'5" (Ashley) 5'7"
Weight: (Lauria) 130 lbs. (Ashley) 145 lbs.
Marital Status: (Lauria) Single (Ashley) In a relationship with Jeremy Hurst
Characteristics: (Lauria) Brown hair, hazel eyes, a mole under her nose, a scar on her head, and pierced ears, (Ashley) Unrevealed
Details: On the night of December 29, 1999, Danny and Kathy Freeman celebrated their daughter Ashley's sixteenth birthday; Ashley's best friend, Lauria Bible was also present at the mobile home in Vinita, Oklahoma. Ashley's boyfriend, Jeremy Hurst, was also present, but left at around 9:30 pm.
Sometime during the night or early morning hours of December 30, 1999, a fire erupted inside of the Freemans' mobile home. A concerned neighbor called the Fire Department at 5:30 am on the morning of December 30, 1999. Lauria's parents and the police immediately canvassed the mobile home for signs of the Freeman family and Lauria Bible. Kathy Freeman was found dead, but her husband Danny Freeman's body and the two girls' bodies were nowhere to be found. Police theorized that Danny Freeman killed his wife Kathy and abducted his daughter Ashley and her friend Lauria Bible; however, his remains were found a day later. The husband and wife had been shot in the head prior to the fire. Ashley and Lauria weren't among Danny Freeman's remains, nor were they anywhere in the vicinity. Lauria's purse was left behind with $200 inside, which suggested that the girls might have been abducted, but robbery was ruled out as a motive since $200 was left behind.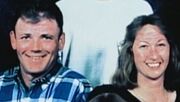 There were no suspects in the case, but before his death, Danny had told his brother Dwayne Vancil that should anything happen to him, to look to the Craig County Sheriff's Department. Danny's son, Shane, had been shot and killed by a deputy after he stole a truck, and Danny was planning to file a wrongful death lawsuit against the department just before the tragic fire. The deputies volunteered to remove themselves from the investigation and turn the matter over to the Oklahoma State Bureau of Investigation. The cooperative deputies passed polygraph tests that proved their innocence.
Many theories were given as to the missing girl's whereabouts. One theory speculated that Danny Freeman was a small-time drug trafficker and had met with two unidentified men two weeks before the murder, but that theory never fit with the girls' disappearance. Others believed Ashley Freeman killed her parents because of friction between her and her father, but authorities believed that the girls couldn't have hidden out for long if that theory was to be believed.
No trace of Lauria Bible or Ashley Freeman has ever been found. There is a $50,000 reward offered in the case.
Suspects: The Freemans have had an outstanding feud with the Craig County Sheriff's department over their son, Shane, who had been shot and killed by a deputy after the theft of a neighbor's truck and rifle. A judge later ruled the shooting as justifiable. Ashley Freeman's boyfriend Jeremy Hurst was not a suspect in the disappearance of his girlfriend Ashley Freeman and/or her best friend Lauria Bible.
Extra Notes: This case first aired on the July 3, 2001 episode. It was also profiled on America's Most Wanted, Vanished with Beth Holloway and Disappeared.
Results: Unsolved. Jeremy Jones and another man have both "confessed" to having led both Lauria and Ashley from the house and killing them elsewhere, but one confession has been proven false, and the other is suspected to be false as well. They have never been found. Ashley was declared legally dead in 2010.
Links:
---