Real Name: Larry Porter Chism
Aliases: Kenneth Lamar Brookins, Jack Coffman, Gary Joseph Buoni, Gary Joseph Buomi, Gerald Goleman, Douglas D. Baker, Charles Cox, Alan Barry, Warren Smith, Daniel Barry, Mark Anthony Baldwin, Theodore Lee Mason, Earl F. McClain, Carl McClair, James La Blanc, James M. Simpson, James F. Hedrick, Ralph Blair, Charles B. Purtie, Howard Smith III
Wanted For: Hijacking, Kidnapping, Escape
Missing Since: December 1990
Details: Larry Chism was arrested on armed robbery and narcotics violations, convicted and sentenced to 40 years in prison. Then on September 13, 1978, Chism and several other inmates went on a bowling trip, and while there, Chism fired at one of the guards, seriously wounding him, and then escaped. He and several other inmates escaped and hijacked a plane to Arkansas. Then, he was arrested after kidnapping a civilian and a shootout with police three days later. However, he escaped again in December of 1978.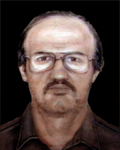 He was found to be living in Alabama with his girlfriend in 1980, but he vanished before he could be arrested. He was found in North Carolina in January of 1990, living with a woman who called herself "Debra Brookins" and their alleged daughter, Brenda, but he once again vanished. The last confirmed sighting of Chism was in December of 1990 in Atlanta, Georgia. Authorities hope to locate "Debra and Brenda Brookins", as they may help find Larry Chism. However, they know that those are not their real names and their identities are a mystery.
Extra Notes: The original airdate for this case was January 3, 1990, it aired in an FBI Alert along with Wardell Ford.
Results: Wanted
Links:
---
Ad blocker interference detected!
Wikia is a free-to-use site that makes money from advertising. We have a modified experience for viewers using ad blockers

Wikia is not accessible if you've made further modifications. Remove the custom ad blocker rule(s) and the page will load as expected.