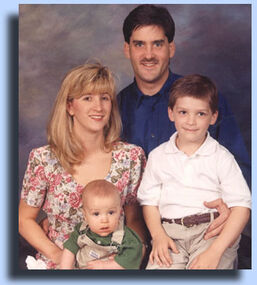 Real Name: Landon and Logan Walker
Nicknames: No known nicknames
Location: Germantown, Tennessee
Date: January 2000
Occupation: Students
Date of Birth: Unrevealed
Height: Unrevealed
Weight: Unrevealed
Marital Status: Single
Characteristics: Caucasian males
Details: Christy and Craig Walker and their two sons, Landon and Logan, appeared to be the perfect family. After a negative change in Craig, they divorced in 1999 and Christy was given full custody of the boys. Although Craig was not given visitation rights, she allowed him to watch them every other weekend while she worked as a nurse. In January 2000, she planned to move into her new house in Tennessee. She left the boys with Craig, but he abducted them and fled. When they didn't return at the scheduled time, Christy went to his house and found it empty except for the message "You screwed up bad". She called the police and they soon found his Dodge Daytona at the Little Rock Airport, with the boys' jackets and Logan's car seat inside. There has been no trace of them since.
Suspects: Craig Walker
Extra Notes: This case first aired on the July 17, 2001 episode.
Results: Solved. After 18 months, an acquaintance of Craig's in Brazil tipped off authorities that he and the boys were living in Florianopolis. The boys were soon reunited with Christy and Craig was arrested by the Brazilian police. In June 2003, he was given a 27-month sentence after pleading guilty to federal bank fraud and aiding and abetting identity theft charges. Additionally, he was placed on probation for five years. He later was charged with violating that probation. He was found dead by police on November 4, 2010.
Links:
---
Ad blocker interference detected!
Wikia is a free-to-use site that makes money from advertising. We have a modified experience for viewers using ad blockers

Wikia is not accessible if you've made further modifications. Remove the custom ad blocker rule(s) and the page will load as expected.