Ad blocker interference detected!
Wikia is a free-to-use site that makes money from advertising. We have a modified experience for viewers using ad blockers

Wikia is not accessible if you've made further modifications. Remove the custom ad blocker rule(s) and the page will load as expected.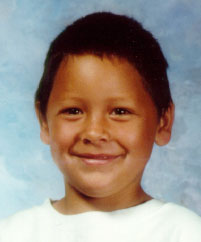 Real Name: Lance Gueverra
Nicknames: No Known Nicknames
Location: Big Water, Utah
Date: August 14, 1996
Occupation: None
Date of Birth: August 4, 1990
Height: 3'10"
Weight: 56 pounds
Marital Status: Single
Characteristics: Philippino male, Brown hair, brown eyes.
Details: Six-year-old Lance Guevarra lived in Big Water, Utah, a small town near Lake Powell along the Utah/Arizona border. He went with his ten-year-old brother to the home of his cousin, Alexander James "Alex" Bybee, on August 14, 1996, to play with them and several other children. He was last seen leaving Alex's home at around 8:00pm, planning to go back to his house to get a video game. It was believed that Lance was abducted while walking home.
Suspects: Police suspect that Lance was kidnapped by someone that he knew, but have no suspects.
Extra Notes: This case originally aired on the November 8, 1996 episode, which quickly profiled other kidnapped children cases, including the disappearance of Jesus Dela Cruz. Lance's case was also profiled on America's Most Wanted.
Results: Solved. In February of 1997, Lance's cousin, Alex Bybee, confessed to murdering him. He soon led police to Lance's remains, and was then charged with first degree murder. He told police that he killed Lance for fear that his uncle, Lance's father, would be upset over breaking Lance's arm in a fight over a video game, and that after Lance passed out, he took him to a hill, then strangled him. Bybee pleaded guilty to murder and was sentenced to five years to life in prison. Alex Bybee is still in prison in Utah, his parole date is scheduled in January 2017.
Links:
---