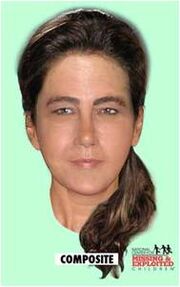 Real Name: Unknown
Nicknames: Lady of the Dunes
Location: Race Point Dunes near Provincetown, Massachusetts
Date: July 26, 1974

Details: On July 26, 1974, a woman's body was discovered in the dunes about a mile east of the Race Point ranger station. The woman's hands were missing, probably by the killer so she could not be identified through fingerprints, her head was nearly severed, and her skull was crushed. Her nude body was discovered lying on a beach towel with her head was resting on her folded jeans. Her body was exhumed in 2000 in attempts to identify her, but she has never been positively identified and her killer has never been caught. She was between 25 and 40 years old when she was found, was 5'6-1/2", 145 pounds, had reddish blond hair, athletic body, extensive dental work and her DNA is available.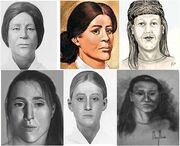 Suspects: Serial killer Hadden Clark has been called a supect because he admitted to murdering the Lady of the Dunes. However, his confession may not be credible as he has lied several times before. Whitey Bulger may also be connected to the case, as he was seen in 1974 with a woman resembling one of the reconstructions.
Extra Notes: The case has appeared on the show Haunting Evidence.
Results: Unsolved
Links: 
---
Ad blocker interference detected!
Wikia is a free-to-use site that makes money from advertising. We have a modified experience for viewers using ad blockers

Wikia is not accessible if you've made further modifications. Remove the custom ad blocker rule(s) and the page will load as expected.