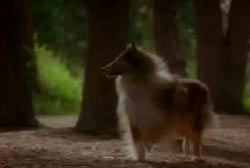 Real Name: Lady the Dog
Case: Unusual Phenomenon
Date: May 1992
Location: Duluth, Minnesota

Details: During Mother's Day weekend in 1992, the Riesgraf family went camping at Bear Head Lake State Park in Minnesota. They brought their two dogs, Lady, a Collie, and Wolfka, a Belgian Shepherd. The Riesgrafs had been to the cabin several times, so they felt comfortable letting the dogs out on their own. Normally, they returned within an hour, but this time they did not return. The family searched for several hours but were unsuccessful.
The next day, a forest fire erupted just a few miles south. The Riesgrafs were forced to evacuate and leave the dogs behind. The fire burned for several days and destroyed hundreds of miles of the forest. A few days later, Susan Riesgraf's father went to the cabin, but he did not find the dogs. The Riesgraf's daughter Hannah prayed every night for the dogs to come home.
Almost two weeks later, Lady was found 150 miles away near Duluth. The next day, she was reunited with the Riesgrafs. Soon, they heard from several people who had seen Lady during her missing days. A few days after Lady's disappearance, a railroad worker spotted a collie walking along tracks, thirty miles from the cabin. About a week later, another eyewitness spotted a collie along a logging trail near Duluth. The Riesgrafs believe that she would have reached their home if she hadn't been taken in by the couple.
Unfortunately, no trace of Wolfka was ever found. The Riesgrafs believe that a special connection between them and Lady helped guide her back to them.
Extra Notes: The case was featured as a part of the March 2, 1994 episode about animals returning to their owners after being separated from them along with the story of Nova.
Results: Unsolved
Links:

---
Ad blocker interference detected!
Wikia is a free-to-use site that makes money from advertising. We have a modified experience for viewers using ad blockers

Wikia is not accessible if you've made further modifications. Remove the custom ad blocker rule(s) and the page will load as expected.