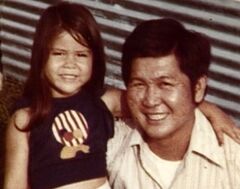 Real Name: Kimberly Karen Gaultier
Case: Lost Daughter
Location: Alexandria, Louisiana
Date: July 1974

Details: South Vietnamese pilot Xuan Van Nguyen is searching for his daughter, Kimberly Karen, whom he has not seen in twenty years. In May of 1968, Xuan arrived at England Air Force Base in Louisiana, for jet pilot training. He was scheduled to remain in the United States for seven months. He soon met the Gaultier family who became close to him. They had a son in Vietnam, so they felt that his situation was similar to Xuan's. He began dating their daughter, Gwendolyn, who was the same age as him.
In December of 1968, Xuan completed his final day of training and was set to return to Vietnam. Gwen wanted him to stay with her, but he had no choice but to return to his country. Within weeks, he was flying combat missions in Vietnam. He often received letters from Gwen, and one letter brought him surprising news: she was pregnant with his child. He was overjoyed to learn that he was going to be a father. On August 28, 1969, their daughter, Kimberly Karen, was born.
Years passed, but he was unable to visit her until June of 1974, when he was sent back to England Air Force Base. Gwen's mother was now divorced and living in a mobile home. She was overjoyed to see him, but also told him that Gwen had married and moved to Houston. Mrs. Gaultier was able to arrange a meeting with Xuan and Kimberly. Kimberly stayed with her grandmother for several weeks. Xuan spent all of his free time with her. However, in July, Gwen returned and took Kimberly back. The next day, Xuan returned to Vietnam.
Within the year, Saigon fell to the communist government and Xuan was incarcerated in a re-education camp. In 1984, he was released from the camp. Two years later, he married and eventually had two children. In 1993, he and his family immigrated to the United States. He and his family now want to be reunited with Kimberly.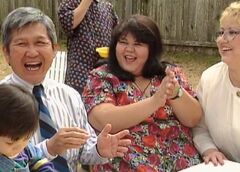 Extra Notes: This case first aired on the February 9, 1994 episode.
Results: Solved. On the night of the broadcast, several of Kimberly's friends and family called the telecenter and said that she had been living in Pineville, Louisiana. Over the years, Kimberly had searched for Xuan but was unable to locate him. Finally, after twenty years, the two were put in contact with each other. A few days later, she and Xuan were reunited in Louisiana. They celebrated the reunion with more than twenty of her relatives, including her mother, Gwendolyn.
Links: None
---
Ad blocker interference detected!
Wikia is a free-to-use site that makes money from advertising. We have a modified experience for viewers using ad blockers

Wikia is not accessible if you've made further modifications. Remove the custom ad blocker rule(s) and the page will load as expected.