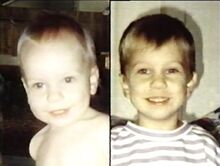 Real Name: Keyan and Logan Ivey
Case: Lost Sons
Date: February 7, 1995
Location: Tracey, California
Details: On February 7, 1995, twenty-nine-year-old David Ivey abducted his two sons, four-year-old Keyan and twenty-month-old Logan, from their home in Tracey, California. He also emptied the family's bank account and left for an unknown location. His wife and their mother, Bambi, has been searching for them ever since.
Suspects: David Ivey
Extra Notes: This case first aired on the May 5, 1995 episode.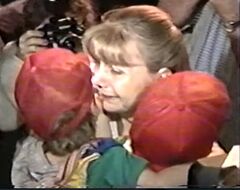 Results: Solved. At around 9:25 pm on the night of the broadcast, an anonymous tip resulted in David and the boys being located in Raleigh, North Carolina. After three months, he was arrested and extradited back to California, charged with multiple felony counts. He served time for child abduction and was later released. He is ordered to make restitution for the thousands of dollars that Bambi spent searching for the boys.
Five days after the broadcast, a Tracey police officer escorted Logan and Keyan back to Bambi. They were flown back to California on a jet provided by the owner of the San Diego Chargers. At 10:05 pm, they were joyfully reunited with Bambi. She has reported that they have happily adjusted to their life back with her.
Links: None
---
Ad blocker interference detected!
Wikia is a free-to-use site that makes money from advertising. We have a modified experience for viewers using ad blockers

Wikia is not accessible if you've made further modifications. Remove the custom ad blocker rule(s) and the page will load as expected.