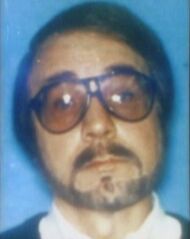 Real Name: Kenneth Robert Stanton
Aliases: No Known Aliases
Wanted For: Rape, Child Molestation, Burglary
Missing Since: 1989
Details: Kenneth Robert Stanton is a serial child molester recently added to the FBI's 10 Most Wanted List. He was first convicted as a sex offender in 1964. He was diagnosed as a "criminal sexual psychopath" by psychiatrists and was committed to a state mental hospital in Michigan. A few years later, he was declared fit to re-enter society, and was freed.
In 1989, he arrived in Jackson, Mississippi, and began molesting young girls when they were alone at home. He pretended to be either a police officer or a food safety inspector. He would then convince the children to let him inside. Sometimes, he would even show them a bag of marijuana, claiming that it was found on their front porch. He would then use this as a way of getting in the home to "search" it. Once inside the home, he would use blindfolds or eyedrops to distract the child; he would then molest the child.
However, in the summer of 1989, one girl began screaming loudly during the assault, and Stanton was scared away. As he left, a neighborhood boy noticed him escape and wrote down his license tag number. The girl was then interviewed by police and identified Stanton as the assailant. He is suspected of at least eleven molestations in Mississippi, Alabama, and Georgia. His car was found abandoned in Ohio in December 1989. He has been on the run ever since.
Extra Notes: The case was featured as a part of the October 24, 1990 episode.
Results: Captured. Several viewers called to report that Stanton was living at a trailer park in Lorraine, Ohio, with his wife. However, he fled after he saw himself on Unsolved Mysteries. Five days later, on October 31, he was arrested at a motel in Rock Hill, South Carolina, after he attempted to molest a nine year old girl. He was convicted of the molestation charges and would not have been eligible for parole until 2031. However, he died in prison on August 20, 2011.
Links:
---
Ad blocker interference detected!
Wikia is a free-to-use site that makes money from advertising. We have a modified experience for viewers using ad blockers

Wikia is not accessible if you've made further modifications. Remove the custom ad blocker rule(s) and the page will load as expected.