Real Name: Kari Lynn Nixon
Nicknames: Her name is sometimes misspelled as Carrie or Kerri
Location: Au Sable Forks, New York
Date: June 22, 1987

Occupation: Minor
Date of Birth: Unrevealed
Height: 5'3"
Weight: 105 lbs.
Marital Status: Single
Characteristics: Caucasian female, Brown hair, Blue Eyes. Kari has multiple piercings in her ears(2 on her left, 4 on her right)
Details: On the night of June 22, 1987, sixteen-year-old Kari Lynn Nixon left her home to run an errand for her dad at around 9:30pm. She bought some groceries at a nearby store, and left at around 9:55pm. She exchanged greetings with a neighbor at around 10:05pm. Five minutes later, a group of teenagers walked down the street, but Kari was not there. Somehow, she disappeared within just seven-hundred feet of her home.
The next day, a massive search began for Kari; however, no trace of her was found. Authorities, her family, and friends were torn on what they believed happened to her. Some believe that she was abducted by a stranger, while others believe that she ran away. She was close to her family, did not have any problems with her home life, nor did she take any extra money or belongings with her, suggesting she was abducted. However, she had also made some interesting comments to a friend, claiming that she wanted to leave the area, possibly going to California or Florida.
In November 1987, the New York state police received a letter from Flint, Michigan, claiming that she was in the Eutawville, South Carolina area. Her family went to the area and put up several missing person posters. Soon, Shirley Kannapel, a Eutawville resident, came forward, claiming that she encountered Kari during the summer of 1987. Under hypnosis, she remembered being introduced to a girl who had called herself "Kari Nixon" who claimed that she was from New York. She said that Kari had two earrings and long, brown hair. She apparently seemed shy and unwilling to talk to Shirley.
Authorities located the girl that Shirley claims was with Kari the day she met her, but she had a memory lapse and was unable to recall the events. Investigators have looked into over seventy sightings of Kari, but are uncertain if she is still alive.
Suspects: None known
Extra Notes: This case first aired on the May 10, 1989 episode. It was also featured in the episode, "Small Town Secret", of Nightmare Next Door.

Results: Solved. On June 5, 1989, the New Kids on the Block filmed a music video at one of their concerts in Los Angeles, California. In March 1991, Kari's parents viewed it and noticed a girl in the audience that looked just like her. Investigators believed that they were most likely the same person. A detailed analysis of the video showed that the girl had almost identical hair length, hair color, face shape, and number of earrings in her right ear as Kari did before she vanished. NKOTB members Jordan and Jonathan Knight made personal appeals for Kari to come forward.
However, the young girl in the video would later come forward and identify herself; she was a teenager from Washington, D.C. Then, on January 28, 1994, almost seven years after Kari vanished, her body was unearthed in a shallow grave only miles from her home. Robert Anthony Jones confessed to her kidnapping, rape, and murder. He had been arrested for numerous bank robberies. He had confessed to her murder in an effort to get his wife, Theresa, a lighter sentence for driving the getaway car from a local bank heist with their two children inside. He had kidnapped Kari at gunpoint and drove her to his parents' camp, where he raped, strangled, and shot her. He buried her on the remote Jay property the following morning.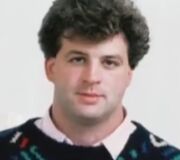 At the time, he was 23 years old and living in Bar Harbor, Maine with his family. He had returned to his hometown for a week-long visit when he abducted Kari, whom he had spotted while he was buying beer at the local store. He later returned to the Au Sable Forks area where he settled with his family, only 200 yards from where he had buried her. Under the negotiated plea, he secured an 18 year to life sentence for the robberies and her murder.
He is now an inmate in Sing Sing Prison and his first parole board hearing was in 2011; he was denied parole that September and, as of 2016, remains in prison. He has stated that he abducted her because of marital difficulties; claiming Theresa had cheated on him as well as claiming he had committed robbery in order to intentionally get caught. Recently the NYSDOCCS/Parole Board denied Jones his first attempt for release.
Links:
---
Ad blocker interference detected!
Wikia is a free-to-use site that makes money from advertising. We have a modified experience for viewers using ad blockers

Wikia is not accessible if you've made further modifications. Remove the custom ad blocker rule(s) and the page will load as expected.