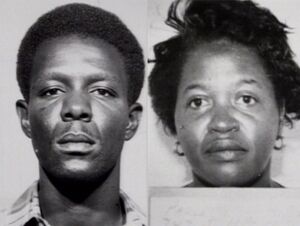 Real Name: Julius Patterson and Paulette Hite
Aliases: Collete Hoop, Pauletta Price
Wanted For: Murder, Armed Robbery, Assualt, Parole Violation
Missing Since: September 10, 1991
Details: On September 10, 1991, Julius Patterson called the police to report that he, along with his girlfriend Paulette Hite, had murdered his own twenty-six-year-old deaf, blind, and mute sister, Jessie, and then buried her remains in their basement in July of 1986, when she had vanished. He also confessed to the murder of another man he called "Gordie". He claimed that they murdered both of them for social security benefits, then never called back. Detectives went to the basement of the home where they lived and located his sister's remains. They also began investigating the other murder that Julius claimed to have committed, the murder of Hall Luther Gordon, who vanished in July of 1986 while under the care of Patterson and Hite. One of the last times they were ever seen was when they robbed and assaulted a friend of Patterson's in September of 1991.
Extra Notes: This case first aired on the April 21, 1993 episode and was updated on November 17, 1993.
Results: Captured. A former employer of Paulette Hite called the telecenter and gave her address to police. After the location was staked out, both Hite and Patterson were arrested. After the arrest, Patterson led police to an abandoned warehouse where he told police he dumped Gordon's remains. Police records show that remains were found in 1989 in the warehouse and that they are now believed to be his. Then, Patterson led police to an area where he claimed to have hid a third body, but he then escaped from police. Three days later, he was re-captured at a bus stop. Hite, through a plea bargain, was charged only with armed robbery and was sentenced to six years in prison and has since been released. Patterson was convicted of third degree murder in Jessie's death and involuntary manslaughter in Gordon's death and was sentenced to twenty years in prison.
Links:
---
Ad blocker interference detected!
Wikia is a free-to-use site that makes money from advertising. We have a modified experience for viewers using ad blockers

Wikia is not accessible if you've made further modifications. Remove the custom ad blocker rule(s) and the page will load as expected.