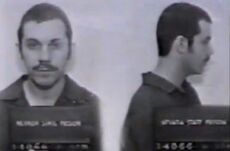 Real Name: Joseph Mancini
Aliases: Richard Lobb
Wanted For: Rape, Escape
Missing Since: March 19, 1987
Details: In 1979, convicted serial rapist Joseph Mancini was sentenced to life in prison plus 10 years. On March 19, 1987, he escaped from a prison near Las Vegas while hidden in a van. He has not been seen since.
Extra Notes: The case was featured as a part of the February 8, 1989 episode.
Results: Captured. In 1998, Mancini was arrested in California for car theft and assault. At the time, he was using the alias Richard Lobb, and it was not until July of 1998 that authorities determined through fingerprint analysis that he was in reality Joseph Mancini. Mancini served the rest of his five year sentence in California and was then returned to Nevada to serve the rest of his sentence there. His parole was denied in 2013. Joseph Mancini is still serving his sentence in Nevada in Close security due to his previous escapes.
Links:
---
Ad blocker interference detected!
Wikia is a free-to-use site that makes money from advertising. We have a modified experience for viewers using ad blockers

Wikia is not accessible if you've made further modifications. Remove the custom ad blocker rule(s) and the page will load as expected.