Real Name: Jose Francisco Blandon
Aliases: None Known
Wanted For: Murder
Missing Since: July 23, 1995
Details: Jose Blandon immigrated from Nicaragua in 1981 as a part of a special anti-terrorist organization for the Sandanista government. He moved to Illinois, and later began dating a woman named Rosa Dominguez. Their relationship was apparently abusive and Rosa eventually left him. Blandon was arrested twice for threatening Rosa, although he was never convicted of those charges.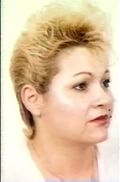 On July 23, 1995, he confronted Rosa outside of her apartment on West 31st Street in Chicago, Illinois. After another argument, Blandon stabbed her to death in front of her children, and fled. He is now wanted on first degree murder charges. He has a five-inch scar on his right forearm and deformed fingers on his right hand, the result of a hand-grenade explosion. He has an olive complexion, black hair, a bald spot on the top of his head, is 5'8", 195 pounds. He was born on August 6, 1959. Authorities advise that he is armed and dangerous; he should not be approached.
Extra Notes: This case first aired on the September 27, 1996 episode.
Results: Captured. On April 12, 2002, Blandon was arrested after almost seven years on the run. In 2004, he was found guilty of Rosa's murder and was sentenced to twenty-eight years in prison. He was released on parole in April 2016.
Links:
---
Ad blocker interference detected!
Wikia is a free-to-use site that makes money from advertising. We have a modified experience for viewers using ad blockers

Wikia is not accessible if you've made further modifications. Remove the custom ad blocker rule(s) and the page will load as expected.