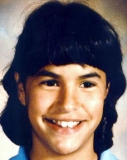 Real Name: Jonelle Renee Matthews
Nicknames: No known nicknames
Location: Greeley, Colorado
Date: December 20, 1984

Occupation: Student
Date of Birth: February 9, 1972
Height: 5'3"
Weight: 115 pounds
Marital Status: Single
Characteristics: Caucasian female. Brown hair, brown eyes.

Details: On December 20, 1984, at 8:15pm 12 year old Jonelle Matthews was dropped off at her home in Greeley, Colorado, after going to a Christmas choral program at a nursing home. She waited for her father and sister, who were at a basketball game, to come home (her mother was visiting out-of-state relatives). At 8:30pm, she received a call from a friend of her father, and by 9:30pm, her father discovered that she was missing. The TV and lights were on and authorities believe she may have been abducted by unknown intruder(s) while watching TV. They discovered the garage door open and footprints were in the garage and back of the house. Investigators believe she was sexually assaulted then murdered somewhere else, but her case remains unsolved.
Suspects: None known
Extra Notes: The original airdate of this case is unrevealed; there are conflicting reports on whether or not this story was actually on Unsolved Mysteries.
Results: Unsolved
Links:
---
Ad blocker interference detected!
Wikia is a free-to-use site that makes money from advertising. We have a modified experience for viewers using ad blockers

Wikia is not accessible if you've made further modifications. Remove the custom ad blocker rule(s) and the page will load as expected.