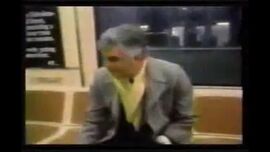 Real Name: John DeMars
Nicknames: No known nicknames
Location: New York
Date: December 20, 1974

Details: On December 20, 1974, a New York banker named John DeMars left his Manhattan office to ride the train home to New Jersey. He was happily married with two young children, but when his train stopped at Nutley, he was not on board. At first police thought he embezzled money, or ran off with a lover, but both of those theories were soon discounted. Detective Sal Lubertazzi went to psychic Dorothy Allison to help him with the case. Dorothy told him that John had fallen off of the train and drowned, but Sal at first did not believe her. He asked for more clues, and she said that she saw a stack of tires, a little pig beach down a hill, a fire engine, the numbers "2, 2, 2" and a bow and arrow. However, detectives were unable to locate John.
Suspects: None known
Extra Notes: The case was featured as a part of the May 6, 1988 episode.
The case of John DeMars bears eerie similarities to a story named The Ghost Of Dead Man's Curve, written by C.B. Colby and originally published in Strangely Enough in 1959, later reprinted in World's Best "True" Ghost Stories in 1989. In the story, the disappearance was said to take place in 1908, between Port Chester and Rye, and the victim was a never-identified stranger whose body was never found.
Results: Solved. Two months after John vanished, a father and son were target shooting with a bow and arrow, on a bluff looking over the Passaic River. One of the arrows missed the target, and landed a few feet from John's body. John had been found on February 22, which matched what Dorothy said about the numbers "2, 2, 2". Also, nearby there was a stack of tires nearby where John's body was found. Police soon determined that John had fallen asleep on the ride home. The conductor made an unscheduled stop on the Passaic River Bridge, and opened the doors to let another passenger off the back of the train. John, who was still half asleep, thought that this was his stop and walked off of the train and fell off the bridge and drowned.
Links:

---
Ad blocker interference detected!
Wikia is a free-to-use site that makes money from advertising. We have a modified experience for viewers using ad blockers

Wikia is not accessible if you've made further modifications. Remove the custom ad blocker rule(s) and the page will load as expected.