Real Name: Unknown at the time of the broadcast
Aliases: John Burns
Wanted For: Murder
Missing Since: 1970
Details:
John Burns once dated Eleanor Farver, but she broke off the relationship after finding evidence that he was married. Burns retaliated by killing her with a shotgun in Washtenaw County, Michigan, then fled. During the investigation police discovered that "John Burns" may not be his real name. They are searching for his true identity so charges can be filed.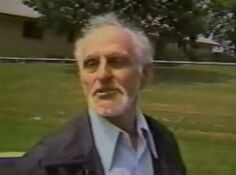 Extra Notes: This case first aired on Special #2 which aired on May 25, 1987.
Results: Captured. "John Burns" has since been identified as Wilford Cashman. Authorities learned that Cashman was an escaped convict from the Pennsylvania State Penitentiary in 1947, serving a 14-year sentence for assault and rape of a young girl. After seventeen years on the run, Cashman was arrested in 1987 in Altoona, Pennsylvania under the alias Stephen Vance. It is likely he murdered Eleanor to keep his identity hidden and possibility to avoid a return to jail. Cashman was convicted of Eleanor's murder in December 1987, but died of a heart attack at 79 the following month before sentencing.
Links:

---
Ad blocker interference detected!
Wikia is a free-to-use site that makes money from advertising. We have a modified experience for viewers using ad blockers

Wikia is not accessible if you've made further modifications. Remove the custom ad blocker rule(s) and the page will load as expected.