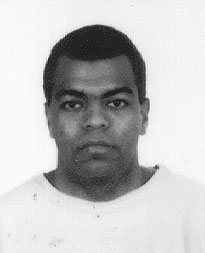 Real Name: John Anthony Diaz
Aliases: Gregory Scott Grayson
Wanted For: Murder
Missing Since: July 1993

Details: John Anthony Diaz was a bright and articulate physical therapist who is wanted for the murder of Dawn Brown in Quincy, Massachusetts. Diaz had moved to the area in 1991 and dated Kimberly Brown until 1992. On July 10, 1993, Diaz gunned down her sister Dawn outside of their parent's home. Authorities now believe Diaz meant to kill Kimberly, and mistakenly killed Dawn. Diaz was apparently depressed by the break up and had stalked Kimberly up until the night her sister was killed. Authorities have determined that after the murder, Diaz fled the country and traveled to the Far East and Europe, under a passport issued to Gregory Scott Grayson. However, authorities now believe that Diaz may have returned to the United States and is working in the medical field. He is considered armed and dangerous.
Extra Notes: This case first aired on the March 15, 1996 episode of Unsolved Mysteries. Diaz was scheduled to be profiled on America's Most Wanted before his capture.
Results: Captured. Diaz was captured in Guyana as a result of the broadcast. He was living under the name Gregory Scott Grayson and was married to a woman named Linda Jairam. He held off deportation by refusing to confirm his identity, but since then, the police have been able to establish that Grayson and Diaz were the same person. He was returned to the United States, convicted of murder, and was sentenced to life in prison.
Links:
---
Ad blocker interference detected!
Wikia is a free-to-use site that makes money from advertising. We have a modified experience for viewers using ad blockers

Wikia is not accessible if you've made further modifications. Remove the custom ad blocker rule(s) and the page will load as expected.