Real Name: Joseph Weldon Smith
Aliases: Joe Smith
Wanted For: Murder, Attempted Murder, Fraud
Missing Since: October 6, 1990

Details: In 1990, businessman Frank Allen rented his Las Vegas, Nevada house to the Smith family -- fifty-year-old Joe Smith, a former con-man, his wife Judith, and her two daughters from a previous marriage: twelve-year-old Kristy Cox and twenty-year-old Wendy Cox.
On the night of October 6, 1990, Frank expected an empty house because Joe claimed that he and his family were going on a weekend vacation. As Frank entered his bedroom, he felt as if something was wrong. He decided to walk through the house when suddenly, Joe appeared and attacked him with a hammer. Joe chased Frank throughout the house until Frank jumped through the glass front door, which he had double-locked earlier. He drove to the guard gate, who called the police.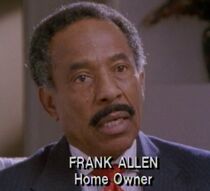 When police arrived ten minutes later, they searched the house for Joe. In one room, they thought they cornered him hiding underneath a blanket. However, when they lifted up the blanket, they discovered Kristy's body; she had been bludgeoned and strangled to death. In the next bedroom, Wendy's body was found; she had also been bludgeoned and strangled. Finally, in the master bedroom, they found Judith dead in her bed. She, too, had been bludgeoned. It was later determined that the victims had been dead for over eighteen hours.
Two hours after the bodies were discovered, Joe Smith called Judith's daughter-in-law. He declared his innocence and said that he knew who 'really' committed the murders. He claimed that he had even killed one of the murderers; of course, this was untrue. Smith vanished soon after being charged with three counts of first degree murder and one count of attempted murder. He fled town in a gold Lincoln Continental with vanity license plates reading "SMITTY2".
Police are puzzled by this seemingly motiveless crime. By all accounts, the Smith marriage was a happy one. Although he did have financial problems, he was not named in his wife's will. Also, he did not have life insurance policies for her or her daughters.
Extra Notes: The case was featured as a part of the January 23, 1991 episode.
Results: Captured. A viewer reported that Smith was hiding in a motel near Los Angeles, but he escaped before police arrived. After receiving information about Smith's brother who lived in the area, authorities tracked Smith to another motel, where he was arrested soon afterward. He later told detectives that he was in the process of creating a new identity. He was later convicted of the murders and sentenced to death.
Links:
---
Ad blocker interference detected!
Wikia is a free-to-use site that makes money from advertising. We have a modified experience for viewers using ad blockers

Wikia is not accessible if you've made further modifications. Remove the custom ad blocker rule(s) and the page will load as expected.