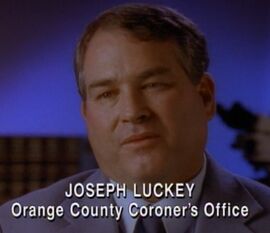 Real Name: Joseph Luckey
Occupation: Supervising Deputy Coroner Investigator
Place Of Birth: Unrevealed
Date Of Birth: Unrevealed
Location: Santa Ana, California

Background: Joe Luckey is a supervising deputy coroner for Orange County, California who has helped police in identifying several victims of homicides, suicides and accidents. In one case, Joe helped to identify a John Doe found at dawn on October 5, 1983 by two lifeguards at Seal Beach, California. The body was so badly decomposed that identification was nearly impossible. Joe was called to the scene and found no evidence of foul play. After an autopsy, the cause of death was determined to be accidental drowning - but the boy's identity and where he came from was a mystery, and the case seemed very difficult.
Joe sent the boy's description to every law enforcement agency in the area, and only one possible match was found. A nine-year-old boy named Arthur Carders had vanished from Fullerton, California, on October 1 and was never found. However, Fullerton was sixteen miles from the body's location. Joe met with Arthur's parents and learned that he had vanished shortly after leaving for a neighborhood park. Joe went to the park and spotted a flood-control channel nearby, later discovering that a dam had been opened the day Arthur vanished due to a significant amount of rain. The overflow went through the channel, raising it six feet higher than normal. Luckey realized that Arthur had fallen into the channel and was swept sixteen miles out to sea. Blood samples would later give a positive identification.
Case Files:
Notes: The case was featured as a part of the January 20, 1995 episode, along with Cullen Ellinburgh.
Links:
---
Ad blocker interference detected!
Wikia is a free-to-use site that makes money from advertising. We have a modified experience for viewers using ad blockers

Wikia is not accessible if you've made further modifications. Remove the custom ad blocker rule(s) and the page will load as expected.